Brand Spotlight: Anita
•
Posted on October 19 2023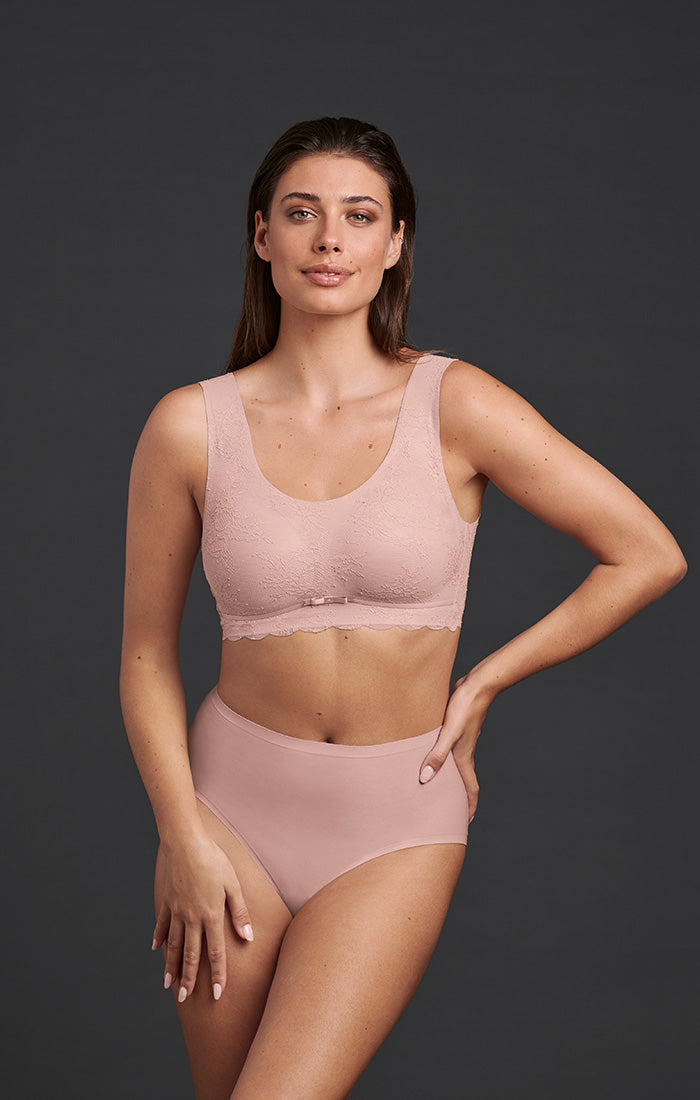 This one has it all! And I mean it all!
From wireless bras to sports bras, to everyday comfort bras, to beautiful lacy bras and finally to swimwear! Anita is a go-to choice for women seeking both style and unparalleled comfort. 
A Legacy of Craftsmanship
Over a century in the lingerie industry, Anita's rich history is a testament to the brand's high-quality undergarments. Founded in 1886 by Ernst Max Helbig, the brand's focus initially was on the production of corsets, which was highly popular in the late 19th century. As the lingerie fashion evolved, so did Anita. The brand was among the first to develop soft cup bras and eliminated the need for underwired bras. Its focus was comfort and superior fit. The 1980s marked a period of expansion for Anita. Its product range expanded to not only bras but swimwear too! Today, Anita is known for their craftsmanship, comfort and fit in the lingerie world. 
Comfort Redefined
Anita offers a wide range of options designed to cater to all unique needs and preferences. The all-day comfort bras, which we carry, range from lace-adorned to seamless designs. 
Pictured: Anita Joy
Underwired Options: The Fleur bra, which features a delicate lace detailing in the cups. It also offers a wide range in sizes making it accessible to women with different body types. There's also the Eve bra that we carry in the two-tone colour way - pink and black. The triangular, breathable moulded cup of this underwire bra is cut extra narrow. A look of airy playfulness is achieved in combination with the diamond-patterned power tulle. It also features wide cushioned straps for all the day comfort. Finally, the Joy bra, our latest addition to the store from Anita. This underwired seamless t-shirt bra is extremely soft with double layered micro-modal, which literally moulds to your breast shape. It features a settle animal print on the cups, a reinforced band and embroidery on the straps for a feminine touch!
Pictured: Anita Fleur
Wireless Options: The Clara bra that goes all the way up to a J cup and band size 50. It features full cup coverage, ample support and shaping. The bra is designed with wide, padded straps to prevent shoulder strain and discomfort. There's also the Lynn bra from Anita, which features a front zip closure. It's also designed with removable moulded pads, which conceal, as well as support. Finally, the Essentials bra from Anita, you have to try this one on to feel the fabric. Feels super soft and plus it's stylish! 
Pictured: Anita Essentials
Elevating Athletic Performance
Pictured: Anita "Delta Air Pad" Sports Bra
We cannot talk about Anita without mentioning their sports bra! These bras are specifically engineered to support you whether your are hitting the gym, going for a run or practicing yoga. The "Delta Air Pad" wireless sports bra is meant for running, jumping and other vigorous workouts. It effectively minimizes breast movement and potential long-term damage to your breast tissue. The "Delta Air Pad" uses Anita's innovative air pad technology, which consists of air-filled padding in the cups, making it breathable and comfortable. It also has a sleek and stylish design! 
Dive into Elegance
Pictured: Anita Tankini
Whether you are lounging by the pool or taking a dip into the ocean, Anita's swimwear has support and fashion-forward designs. The swimwear collection includes one-pieces, tankinis, and bikinis, providing options for women of all tastes and body shapes. Anita's swimwear is made with quick-drying materials and features adjustable straps, ensuring a comfortable and secure fit while you enjoy your time in the sun. 
Pictured: Anita One Piece Swimsuit
Final Words
Anita has it all, offering women the chance to feel their best, no matter the occasion.
Happy Shopping!
Signing off until next time! xox